Our Dogs: Recent Patients
We treated our first dog in June 2021, and since then have screened, treated, or enrolled dozens of dogs. We are fortunate to have met many wonderful dogs and caring people who have brought them to us. The need is out there; this is not a problem that goes away. But our mission is to do our part, one dog at the time.
Here are some of the new faces and their stories:
Lulabelle
May 3rd was a day to celebrate. It was Lulabelle's 1 year anniversary aer surgery for her mammary tumor. Her restaging diagnoscs found her to be in remission, NED (no evidence of disease). For dogs with mammary tumor the one-year mark is a milestone, and Lulabelle has made it, much to the joy and relief of everyone who knows her and loves her. And Lulabelle has a family who loves her very much. Things have changed so much for her over the past year since she was homeless and hopeless with a large mammary tumor and in desperate need of care. But with the help of a local rescue devoted to helping dogs like Lulabelle she found her way to Lesley's Place and a new family. Life is good for Lulabelle, and we are grateful we were able to help her and be part of her care.
---
Moni
Moni was our first dog, and she came to us via BVSPCA, but originated at Tangipahoa Animal Shelter in Louisiana. Moni is the perfect example of a dog that directly benefited from the collaboration between these 2 shelters. Many of the southern shelters are overcrowded, which means dogs with medical needs are often put down because the resources to treat and home them seem too great. Unfortunately, Moni had aggressive and advanced tumors, and her prognosis is poor. But for now, she is living a comfortable life with her foster-mom.
---
Rochelle
Beautiful Rochelle came to us from Finding Shelter, a rescue co-founded by Grace Kelly Herbert. Rochelle spent years as a breeder on a puppy-mill farm, and was eventually surrendered voluntarily. Despite her experiences, she has a wonderful, friendly disposition, and she smiled at us when we first met her for screening.
Thanks to Finding Shelter, her foster family adopted her, and thanks to Lesley's Place, she received treatment for her mammary tumors and a mast cell tumor.
---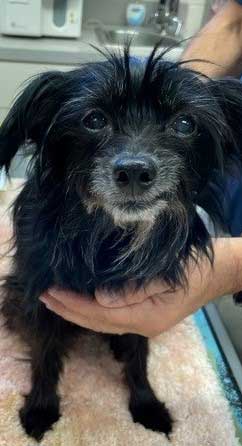 Pixie Stick
Pixie Stick also came to us from Brandywine Valley SPCA.
We know very little about her, but we suspect she used to have a home and an owner before she ended up on the street. She is sweet and lovable, but as so many other older intact female dogs, she had numerous mammary gland tumors. We were pleased to enroll her and treat her through Lesley's Place.
She is currently living a good life with her new foster family.
---
Sallie Sue
Sallie Sue came to us from Long Dogs and Friends Rescue. She had a large mammary tumor but was otherwise in good health. She passed her screening, had her surgery, and was adopted shortly thereafter. Here is her photo from her Christmas celebration. It looks like she landed well!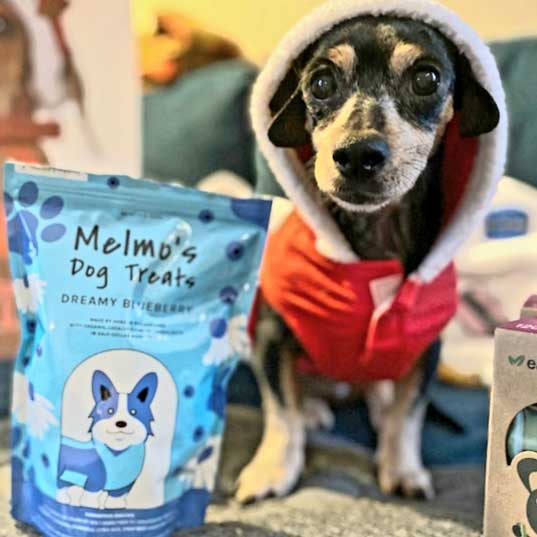 Previous Programs: Stories from the PennVet Shelter Canine Mammary Tumor Program.
Through Dr. Sorenmo's work with the PennVet Shelter Canine Mammary Tumor program, many dogs received the care they needed to survive and get out of the shelters. Many went through incredible hardship before they were rescued. We will probably never know the extent of their suffering. Here are the stories of Sophie and Peanut and the humans who brought them home.
Peanut's Story
We do not know where Peanut came from before she ended up in a cage in one of the largest shelters in Philadelphia. She was "timestamped" due to overcrowding and because she was considered unadoptable with her condition, full of scars and tumors along her mammary chain. She was cowering and hiding in the back of her cage when her foster-to-be, Kaity, saw her for the first time. They connected immediately, and when Kaity returned the next day to bring her home, Peanut greeted her at the front of the cage, ready to go. Peanut had found her human and Kaity had found her dog. This is how Kaity describes Peanut: "After an initial unsuccessful attempt to keep her separated from my cats, Peanut was left free when I wasn't there and when I would return, she was always at the door, just waking up from her naps with Devon and George, (my two cats at the time.) Peanut was honestly such an amazing being for the three years I had her. She had a beautiful energy to her and pranced all around the house; literally lifting her feet up really high and stomping them down excitedly. I think she was really proud she was part of a family. She was my parent's dog, Nina's, very best friend and she got to see her most every week. The two would romp around for hours and then nap together in the sun. Peanut welcomed every foster I brought into the home with complete grace. In her time with us, she opened her home to dozens of cats in need of a place to recuperate and stay for a few weeks or months and even a few dogs too. She was kind and sweet to all of them. She was absolutely one in a million. She was also my first dog to have other than our family dogs we had gotten together when I was younger. I still can't believe I was so lucky to find sweet Peanut."
Peanut also found her way to the PennVet Shelter Canine Mammary Tumor program. After her surgery and histopathological examination of her tumors, we were cautiously optimistic about her future. Despite having low-to-intermediate large tumors, her tumor hormone receptor status was positive for estrogen receptors and her serum estrogen level was high and together all of these factors pointed towards a good prognosis. But she was not that lucky. One year after her surgery, a routine follow-up chest radiograph showed lung metastasis. Despite this set-back, Peanut was asymptomatic and continued to live a full life with her foster mom. Her metastatic lesions progressed very slowly over the following 18 months, and her quality of life was excellent until the last week of her life when she succumbed to her illness.
Her story is an important reminder that breast cancer can be a deadly disease, both in women and dogs. Only through research can we change this. We pledge to do our part to help, and Lesley's Place allows us to continue the work with our collaborative team.
Sophie's Journey
Sophie was homeless, alone, and surviving on the streets of Lancaster. We do not know how she ended up there or how long she was homeless, but we can imagine the hardship she went through. She also had a very large and painful mammary tumor that made it difficult for her to move around. She was eventually picked up by animal control and brought to a large regional animal shelter, then made her way to The PennVet Shelter Canine Mammary program where she received the care she needed. Here she caught the attention of one of the emergency service residents who decided Sophie would be the perfect dog for her parents. Despite her hardship, Sophie was sweet and gentle and easy to love, and there was an instant love connection when she met her parents. Now, Sophie is living a truly blessed life in the rolling hills of Chester County. It has been more than 2 years since she was rescued from the street and treated for her mammary tumors and her prognosis is excellent. This is how her foster-mom describes the experience: "We are so grateful she came into our lives, and we have you and your study to thank for that!" Sophie represents so many dogs out there and all the good things that can come from saving them. This is the work we want to continue through Lesley's Place.